by Kate Meyer
As we informed you last year, the General Assembly recreated the Statutory Revision Committee (SRC) through legislation enacted in 2016. Generally, the SRC makes an ongoing examination of the Colorado Revised Statutes (C.R.S.) to discover and—via legislation—rectify defects and anachronisms in the law. The SRC recommenced meeting during the 2016 interim and has had a very productive year.
2017 session
In the 2017 legislative session, the SRC recommended for introduction 26 bills, all of which the General Assembly passed and the Governor signed into law.  By way of comparison, this figure falls within the range of bills previously recommended by the SRC's predecessor entity (also known as the "Statutory Revision Committee," this entity existed from 1977-1985), which annually recommended between 12 and 39 bills.
The majority (i.e., 18 of the 26) of the SRC's 2017 bills conformed existing reporting requirements with the language in section 24-1-136 (11)(a)(I), C.R.S., which imposes an automatic three-year repeal of reports to the General Assembly from executive branch agencies and the judicial branch. In consultation with the reporting entities and the Joint Budget Committee, the SRC bills aligned statutory reporting requirements with the automatic repeal. In some cases, the SRC bills repealed reports that were no longer necessary due to lack of funding, expired programs, lack of information to report, redundant information included in other reports, etc.
Other SRC-sponsored bills:
Overall, more than 30 pages of statutory text were repealed or modernized through SRC-recommended legislation.
Current committee composition and activity
The committee consists of four legislators (two appointees from the majority and minority leaderships in each house)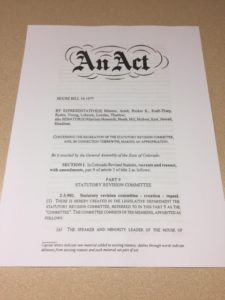 and two nonlegislator, nonvoting attorneys appointed by the Committee on Legal Services. The current appointees are: Senator Beth Martinez Humenik (Chair), Senator Dominick Moreno (Vice-Chair), Representative Jeni James Arndt, Representative Edie Hooton, Representative Dan Nordberg, Senator Jack Tate, Representative Dan Thurlow, Senator Rachel Zenzinger, Patrice Bernadette Collins, and Brad Ramming.
The SRC met in June 2017 and requested staff to draft two bills: One to reorganize without substantive change the state sales tax exemption for certain drugs and medical and therapeutic devices; and one to repeal the odometer reading requirement for VIN verifications. The committee meets again on Monday, August 21, 2017, to decide whether to recommend those bills, which requires an affirmative vote from at least five of the legislative committee members, and to hear staff presentations on another 13 potential bills. The items slated to be addressed during the August 21 meeting encompass a wide breadth of subjects, including:
An apparent statutory conflict over whether deputy sheriffs must be certified by the Peace Officers' Standards and Training (P.O.S.T.) Board;
Various laws held to be unconstitutional relating to sexually explicit materials harmful to children, same-sex marriage, interest on damages in § 13-21-101 (1), C.R.S., and per-signature pay of ballot issue petition circulators;
Antiquated or ambiguous terms, such as "pauper," "husband and wife," or "mother and father;" and, with respect to children, "legitimate/illegitimate;"
Unfunded department of human services programs; and
Outdated and inconsistent state officials' bonds and oaths requirements.
The bill drafts, memoranda, and assorted documents for the August 21 meeting are all available through this link: http://leg.colorado.gov/publications/meeting-agenda-statutory-revision-committee-20170821 and the audio from the meeting can be live-streamed here: http://leg.colorado.gov/committee/granicus/933566.
The SRC expects to meet in October 2017 as well—date to be determined.
Know of any antiquated, redundant, or contradictory laws? Please feel free to contact SRC staff via email: StatutoryRevision.ga@coleg.gov.